| | | |
| --- | --- | --- |
| | | |
| ENGLISH | FRANÇAIS | ITALIANO |

50 YEARS : THE ROAD BETWEEN THE VINYL SINGLE « RALLYE MONTE-CARLO » AND TODAYS' CD SINGLE « MARANELLO » !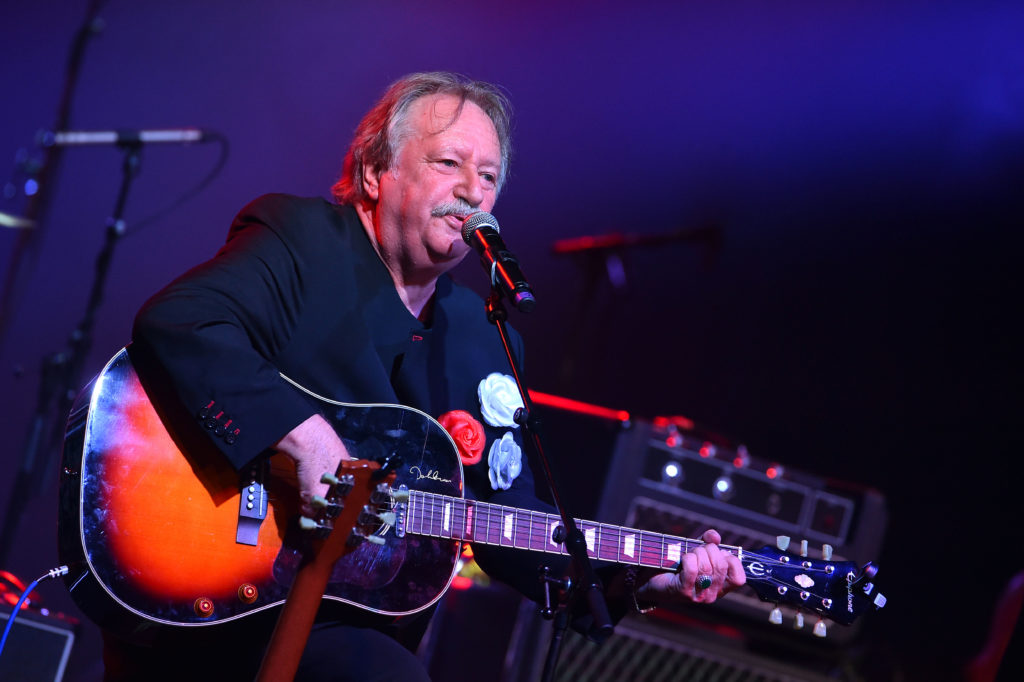 Richard LORD was born in the Principality of Monaco on the 10th September 1947, (Same year as the Ferrari), as Richard Henri Cavassuto, a true Citizen of Monaco : a « Monegasque » !
In December of 1959, at age 12, for his last childhood Christmas at the Palace of HH.SS.HH. Prince Rainier III and Princess Grace of Moonaco, he received from his Sovereign a gift that was to mean so much… : A Guitar !
From 1960 through 1970, he was the leader of different rock groups, playing drums with the « Vampires », bass guitare in the « Yankees » and « Les Ombres » (Shadows' repertoire), ending that period as lead vocal and bass guitar with « The Outlaws », playing and singing… The Beatles.
After a 3 month Tour in the Emirates (Dubai) in the end of 1970, he went back to Monaco. With the help of his Sovereign, H.S.H. Prince Rainier III, he went for the first time to London for a week of recording sessions at the famous EMI Abbey Road Studios.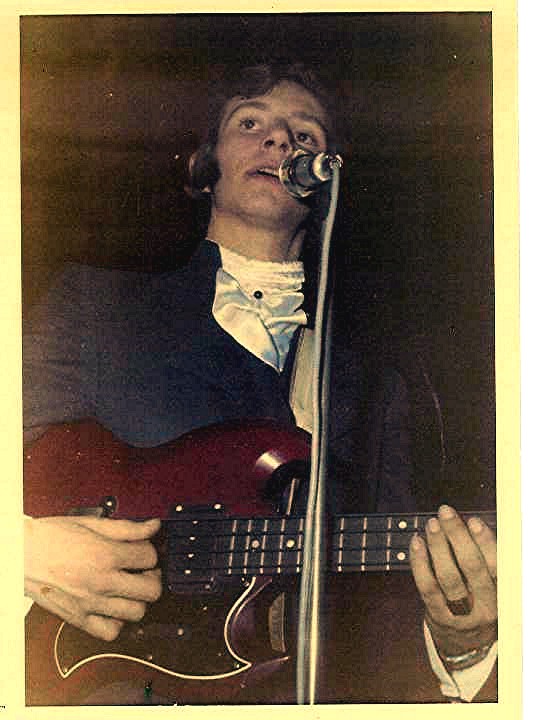 October 1971, first take at Abbey Road in Studio 3, with Richard Lush as sound engineer, he recorded songs that he composed, like « Everybody's loved a First Time ». This song was released as the first RICHARD LORD's single, followed in 1973 by his first Gold record, the song of the world famous rally : « Rallye Monte-Carlo » !
April 1983 – Richard imagines « ABBEY ROAD SIXTIES », a show with exclusively 15 Beatles songs (1963-1983) at the CCAM, Monte=Carlo Centre des Congrès, in front of HSH Prince RAINIER III of Monaco.
In 1991 – He creates his own recording studio www.gettingbetter.fr, near the Casino de Paris.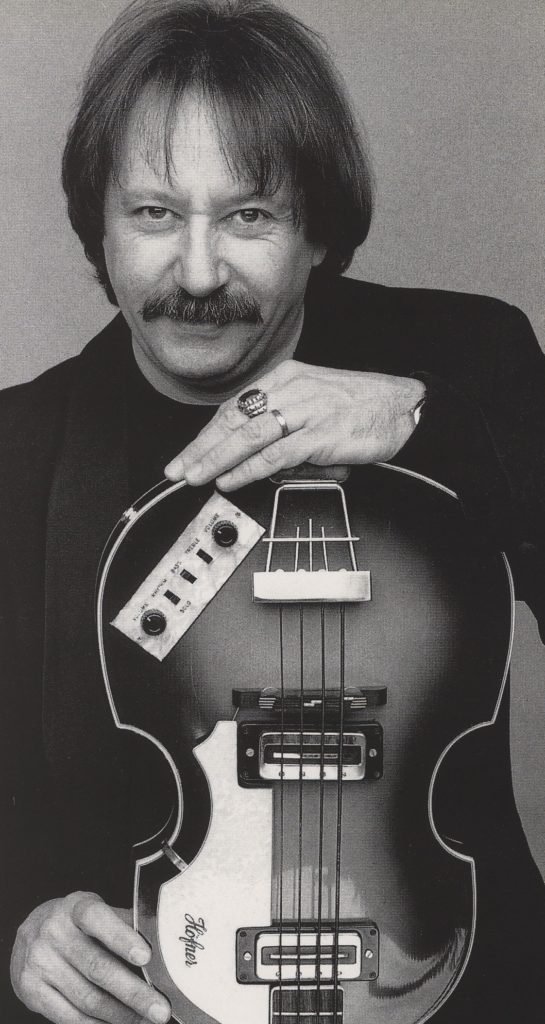 June 1999 – Richard succeeded in bringing together 6 local Rock bands who, like his own « the Outlaws », performed in the Principality in the 1960's.
« MONTE-CARLO, ANNÉES SIXTIES » achieved a huge success at the Sporting, with 700 fans in the « Salle des Etoiles ».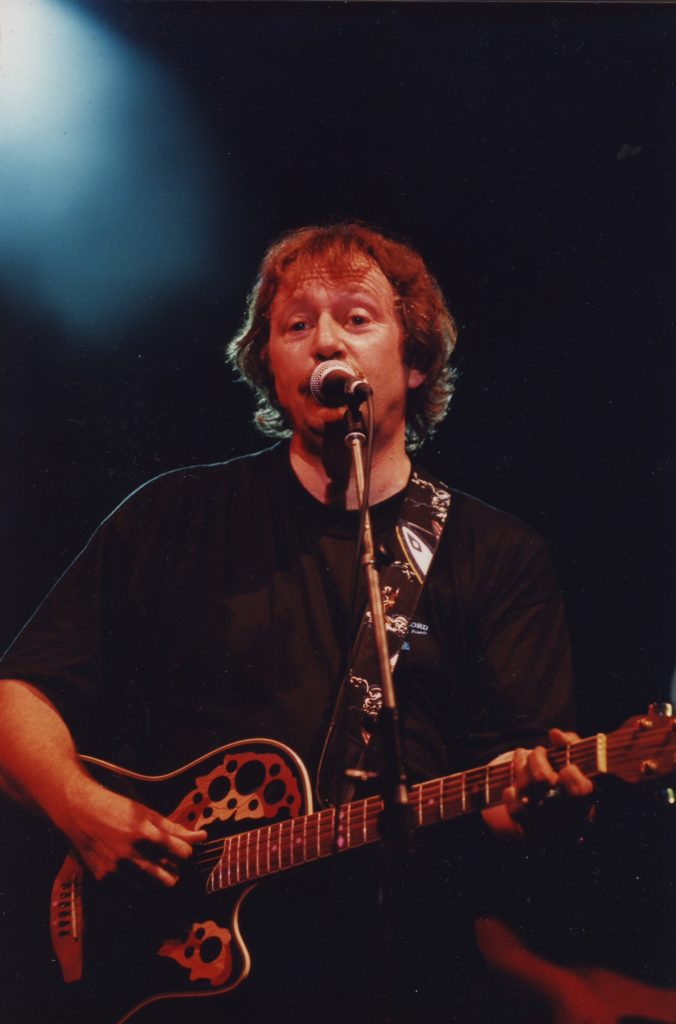 June 14th 2002, he received an award from the SACEM (Copyright Society in Paris). His catalogue of music today has more than 200 songs registered, and more than 100 recorded.
June 2004 – His new concert « SIXTIES'N JAZZ » at the Sporting Monte-Carlo, with the Beatlovs, The Mood Orchestra, and his famous jazzmen including the pianist Giovanni Mirabassi, in the presence of Prince Hereditary ALBERT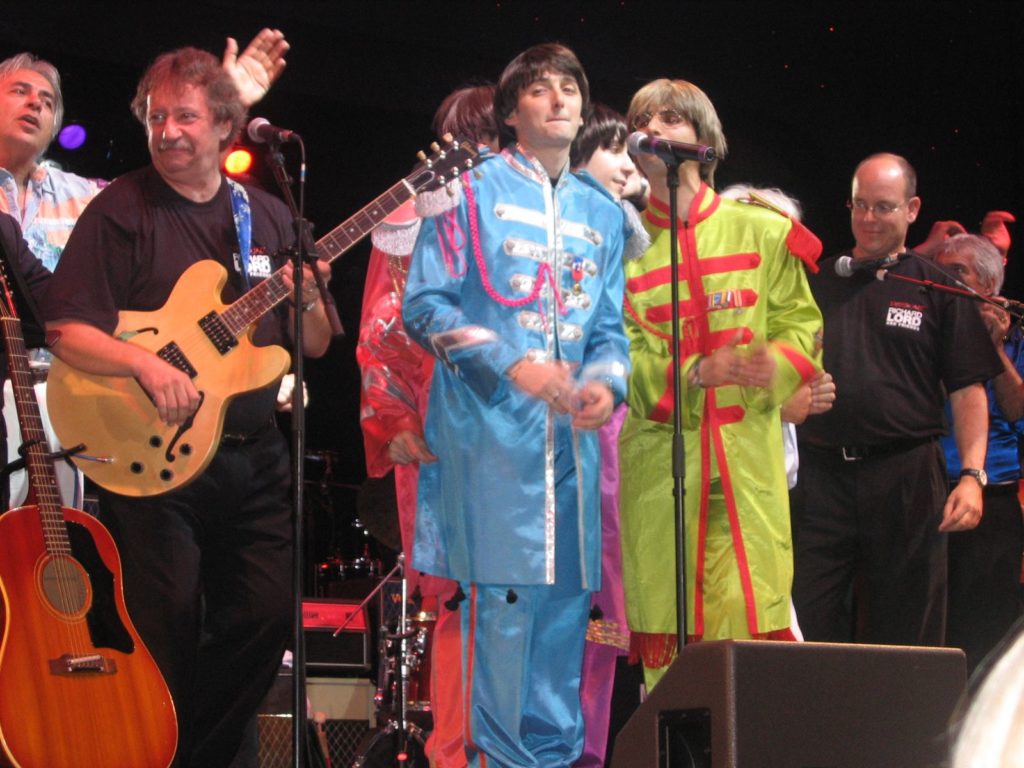 2005
On February 3, on a personal invitation, Richard LORD went to Italy, in Maranello, to visit the Team and the Scuderia F1.
These privileged moments are at the heart of the composition of a new Italian title… Little by little, « MARANELLO » is born…
– 19 November 2005, celebrating in Monaco, the coronation of H.S.H. Prince Albert II, with 2 concerts of « Richard Lord and Friends », during which the Sovereign joined the band on drums to play the last song « J'AVAIS DOUZE ANS » composed by R. Cavassuto.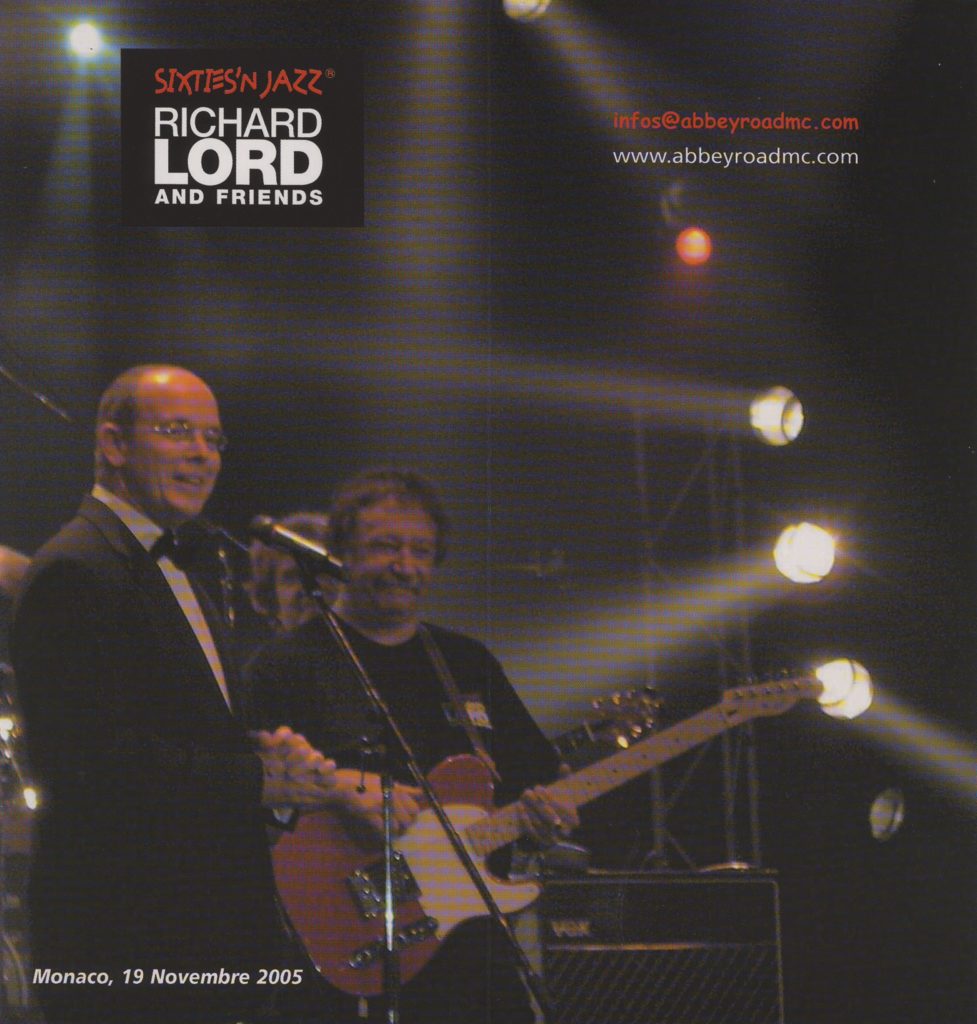 2006
13th November in London, Richard organizes a visit of Abbey Road Studios. Unforgettable moments with his Sovereign Prince Albert II.
AFTER « RALLYE MONTE-CARLO » THIS IS  « MARANELLO » !
Paris, September 2007 : Creation of the musical, rhythmic bases and special effects in his studios MC LIMITED. (www.gettingbetter.fr).
2008
Milano, in July : Recording of 8 italian chorists at the ALARI PARK Studios.
London, in August : Final lead vocal, mixing and mastering at Abbey Road in Studio 2, where Richard has recorded so many times.
Milano again, in December : 14 italian dancers joined him for the production and shooting of the « Maranello »'s videofilm at the AREATERRA/ACCADUE Studios.
2009
January, release of the red CD single « Maranello », with the original version from the vinyl single « Rallye Monte-Carlo » and the DVD videoclip « Maranello » with the dancers.
February, Richard flies to Rio de Janeiro, invited by his brasilian friend and bassman Carlos Werneck to promote in Brazil his songs including « Maranello » on Radio TV Globo, giving interviews on Copacabana/Ipanema beach. Like special guest he attends a rehearsal of a famous Samba School, just before enjoying the Carnival.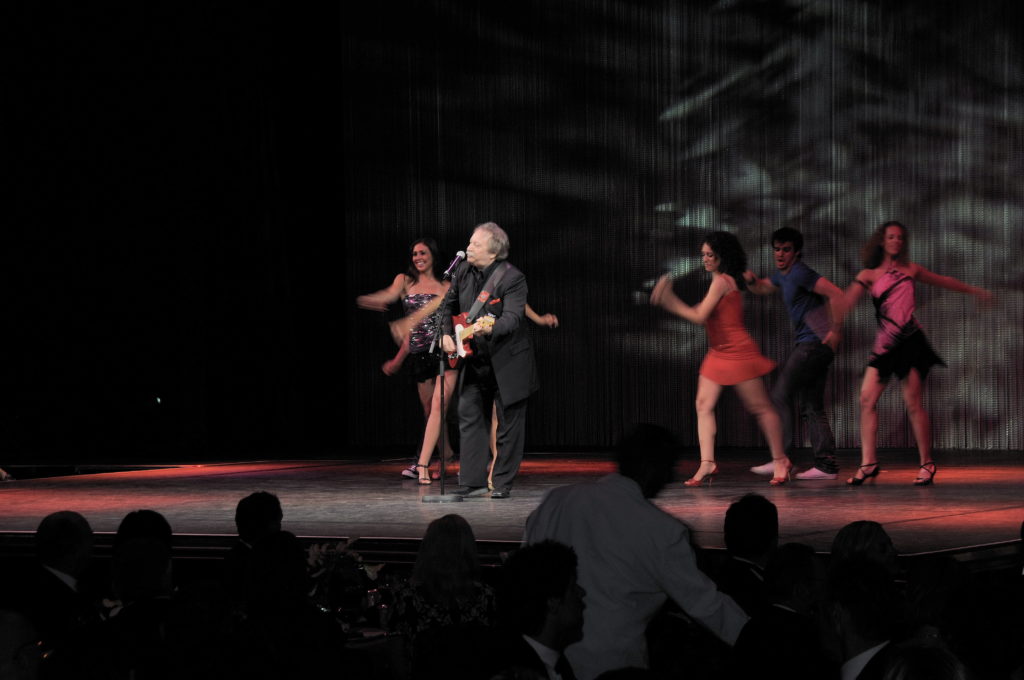 In May, Richard sings « Maranello » for the Premiere of the dance hit single, with 6 dancers on the stage for the Monaco Grand Prix F1 Gala dinner, held at the Sporting Monte-Carlo. The performance as enjoyed by HSH Prince Albert II and the whole Formula 1 world : Drivers, Teams and Organizers.
2010
Richard wrote a new song « VANCOUVER BC », another tribute to a town, after the Olympic Games…
He also composed « HARLEY BIKER » (Harley Davidsong), that Richard wrote and recorded in Paris, with the project to make it in Nashville (USA), but with different other singers.
He also started to write an autobiographical book that will be prefaced by H.S.H. Prince Albert II of Monaco : The amazing Life of a Monegasque composer, between the Music, the Automobile and… Abbey Road !
Fom « Monte-Carlo » to « Maranello », Richard's life and music have travelled all over Europe, as well as the Emirates, South Africa, Ivory Coast, Brasil, Hong Kong, Seychelles, USA with New York, Los Angeles, San Francisco…
2011
1971 – 2011, also celebrating 40 years of Richard's recording sessions at Abbey Road, when Richard Cavassuto recorded in Studio 3 his first vinyl single « Everybody's Loved a First Time » and his famous « Rallye Monte-Carlo » as… Richard LORD !
In July, Richard was invited among the prestigious guests of HH.SS. HH. Prince Albert II and Princess Charlene of Monaco, to celebrate their unforgettable wedding in Monaco.
WHEN I'M SIXTY-FOUR
10th September 2011 – Once again at the Sporting Monte-Carlo, Richard performed with 18 musicians, chorists and dancers to celebrate « 64 », his own birthday. Yes indeed, Richard was born on September 10th, 1947, exactly 64 years before ! During the show, he told through his songs, fifty years of music and travels throughout the world. In the audience was HSH Prince Albert II who, once more, came on the stage to play drums with all the band on the final song « Maranello ». As special guests, Jonathan Smith, General Manager of the EMI Abbey RoadStudios, the famous drummer Andre Ceccarelli who joined the band to play « Rallye Monte-Carlo » and « Back to Abbey Road », also the famous french singer Laurent Voulzy who came to sing « I feel Fine » with Richard.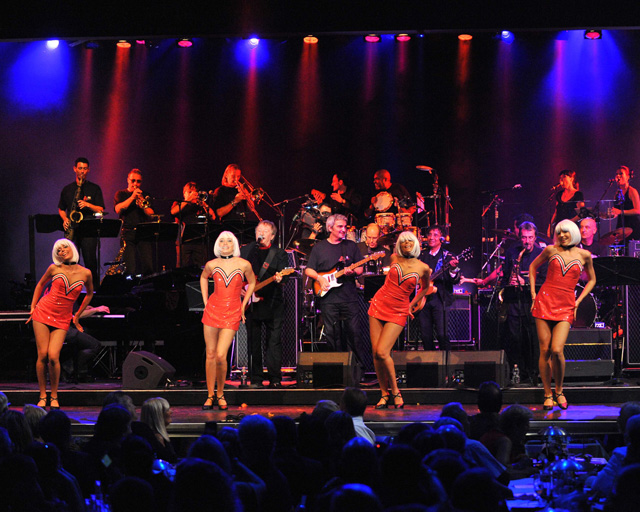 2012
16th of June, organised by Richard, wishing to twin the 2 famous town, the firest official visit in Maranello of Georges Marsan, Mayor of Monaco and Lucia Bursi, Mayor of Maranello.
15th of September, the new concert of « Richard Lord and Friends » for the first NOTTE ROSSA, where he had the privilege to sing « Maranello », Piazza del Museo Ferrari, in… Maranello !
2013
22nd of June, second concert « Notte Rossa » in Maranello, where Richard sings with the RHBB (Red House Blues Band), a rock group formed by engineers and collaborators working at the Ferrari SpA !
10th September, Richard organized a meeting for his project of twinning between Monaco and Maranello, a special meeting in the Palaces's gardens and a diinner with HSH Prince Albert II, the Mayors of Monaco, Maranello, Fiorano, at the Hotel de Paris, Monte-Carlo SBM to celebrate his « 66 », but also 40 years separating the 2 songs : Rallye Monte-Carlo and Maranello.
6th November, at the ACM, Richard, with 13 others, after 50 years as a member of the Automobile Club of Monaco, became, at the table of the President Michel Boeri, « Member for Life » !
2014
10th of May, new concert of Richard LORD in Fiorano (Italy), as special guest with the RHBB.
Also going on with the relationship between Monte-Carlo and Maranello for his twinning project, Richard met Massimiliano Morini, the new Mayor of Maranello who replaced Lucia Bursi.
Still writing his biographical book started in 2011, Richard's life should be released in 2019.
4th September 2014, Richard performed 12 songs for the FCA Ferrari Club of America in Los Angeles and sang « Maranello » for a special FCA event organized by the West Region in California. Then, just before his 67, he drove on the famous ROUTE 66, the Grand anyon by helicopter, after visiting and dedicating his CD/DVD Maranello « Notte Rossa » at Las Vegas' Ferrari Dealer.
November, back to Europe, Richard wrote BELLE PAROLE, a new song in italian for a change. This new production was recorded in Paris, Milano and in London at Abbey Road Studios, by Robbie, an italian singer that used to be a chorist of the RHBB rock group.
December, Richard wrote JACQUES & GABRIELLA, a new song for the princely twins of Monaco. HSH Prince Albert II loved the song and invited Richard to perform the song at the Palace for their Baptism.
2015
In March, a new CD Album (Ref. ARR20151) with all the concert LIVE in Maranello is released and distributed by the town and the Ferrari Shops in Maranello, to promote the song « Maranello », all over the world by all the tourists and Ferrari's fans visiting the Città dei Motori.
10th May, as expected, Richard sang « Jacques & Gabriella » at the Palace, in front of 400 VIP's invited by HH.SS.HH. Prince Albert II and Princesse Charlene for the baptism of their twins.
2016
10th September – Once more at the Sporting Monte-Carlo, Richard organized to celebrate his birthday, a new concert called « 69 », singing songs he wrote during thoses years, also other songs from Woodstock (August 1969) and from the Beatles Album « Abbey Road », released in September 1969.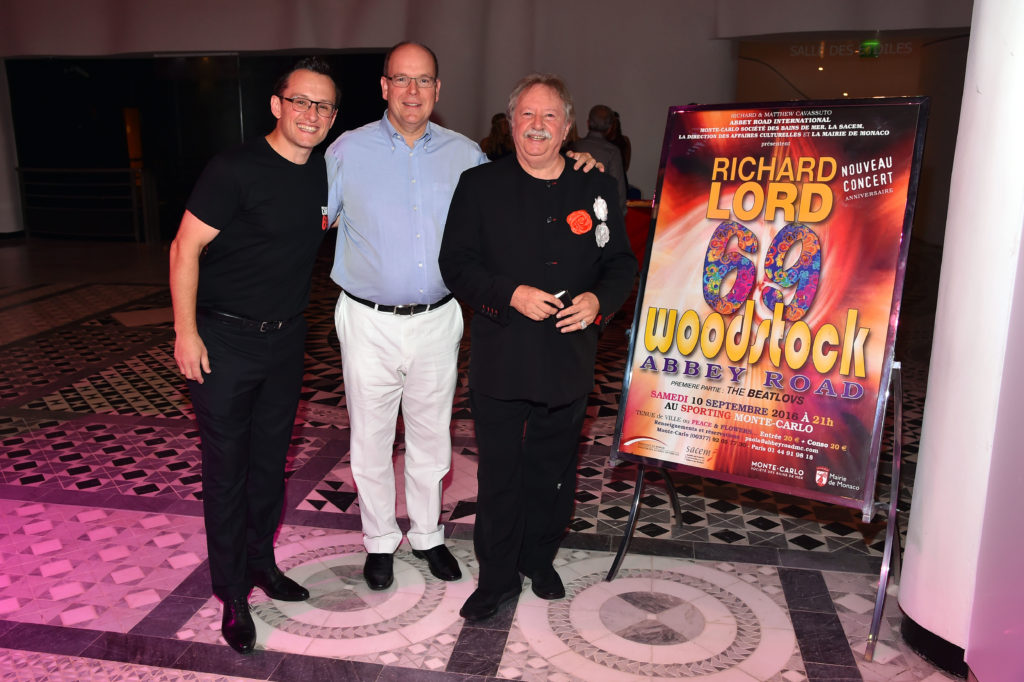 2017
20th May, in Maranello, Richard realised his goal : to make the Mayors of Maranello and Monaco to sign an alliance between these famous cities of Automobile, with the presence of HSH Prince Albert II in the Conference Hall of the Ferrari SpA. During His stay, Prince Albert visited the new Ferrari museum and a new part of the factory.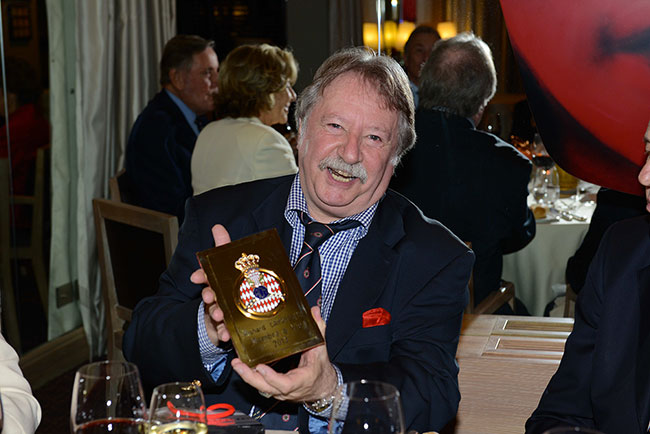 1947-2017 – Richard Lord and Ferrari celebrating their 70's!
2018
Recorded at Abbey Road in December 2017, Richard, still producing his italian singer Roberta Francomano (« Robbie »), composed for her a new song « DANCING IN THE STARS » that she performed on 16th June 2018 during the annual « Notte Rossa » in Maranello, followed by 5 mega Summer concerts with Radio Bruno Estate, started in July on the Adriatic Sea, ended September 2 in Bologna with 30.000 people.
2019
14 june – He sings « MARANELLO » at the 8th « Notte Rossa » and introduced the new Mayor of Maranello, Luigi Zironi.
As the new Vice-President of the Ferrari Club Monaco, Richard organizes on 17 October, an event with 13 Ferrari's Owners, to reach the famous « Col de Turini », where he will sing his own « Rallye Monte-Carlo »!
2020
Even with the Coronavirus problem, Richard composed two new songs for his italian Artist ROBERTA FRANCOMANO : « IO CON TE » and « VOGLIO BALLARE » that she did record.
2021
12 August, as he did two years before at the célèbre « Col de Turini », he organizes another Ferrari event in Ardèche, 400 km from Monaco, to go to the other special « Rallye Monte-Carlo » famous site at « La Remise », visiting his friend Yves Jouanny, where he will sing again his « Rallye Monte-Carlo » !
2nd November, RICHARD « 50 YEARS WITH ABBEY ROAD » (1971-2021) when, on the 4th October 1971 he came to record his first single as Richard LORD at EMI Abbey Road Studios. In the same Studio 3, he does record his new song « NINETEEN SEVENTY-ONE » and celebrates with twenty friends like Giovanni Mirabassi, Abbey Road Studios' staff, sound engineers, also his friend Ken TOWNSEND who was the General Manager of the studios during the fantastic Beatles period and who insisted on being present for the event.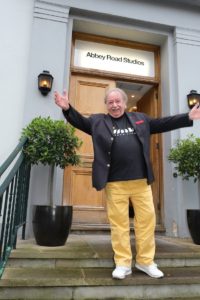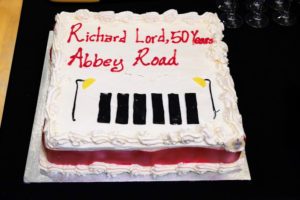 Paris on 2nd December, in the Salons De Bussy, he receives from the SACEM (French copyright society), a medal to celebrate his 50 years of membership, as songwriter since 1971.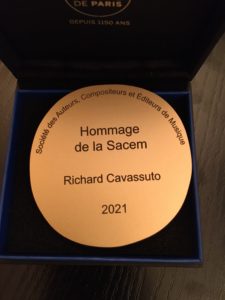 2022
On 10th September, at the luxurious Opera Garnier Monte-Carlo, in the presence of HSH Prince Albert II of Monaco, release of "75", Richard's autobiographical book.
In between the many projections of his atypical life on the big screen (photos and videos), Richard, with his Folk guitar J45, sang on stage about 10 of his songs, accompanied by his faithful jazzman Giovanni Mirabassi (Grand piano) and the Italian singer Roberta Francomano, as a mini live concert.
At the end of the event, Prince Albert went on stage to sing to Richard, with a large audience, "Happy Birthday To You" 75 !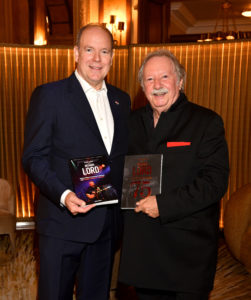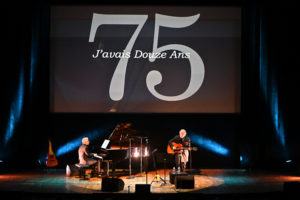 2023
His project to organize a Tour « FROM MONTE-CARLO TO MARANELLO » is on its way to sing his Rally, Maranello and many other songs in association with the National Automobile Clubs and/or different Scuderia Ferrari Clubs, starting from Abu Dhabi, Shanghai, Hong Kong, Singapore, Sydney, ending in Wellington (New Zealand).